Welcome to Under One Umbrella. After years of being told I need to start a blog, I decided to finally throw my hat in the ring. How did I choose the name? Well, my Facebook family chose it for me. I wanted to be able to continue talking about all the things I already discussed. Intersectionality, Mental Health, Adoption, Neurodiversity, and my family. I went to my Facebook family for help choosing a name and "Under one Umbrella " was born.

So how did we get here? I have dreamed of being a physician since I was 5 years old. I woke up one morning and told my mom that I wanted to be a pediatrician. She immediately began to encourage that dream. She took me to the library to look up and learn about what a pediatrician does. She introduced me to physicians and encouraged me to take any health-related classes while in school. I joke that she brainwashed me into being a physician, but the truth is she provided unwavering support and never doubted my ability to succeed.
I didn't have the stereotypical background of a future doctor. During the first few years of my life, we were lower middle class and things were ok. We had a house, always had food and I received nice toys, you know… the things that were important to a 6-year-old 😉. Then my dad ended up in jail. We went from the comfort of the middle class, to very poor.
Though my mother always had at least one job and many times two, we struggled with homelessness. We were fortunate enough that we never had to live on the streets because people were always kind enough to give us a place to stay. I know what it is to heat up water on the stove to take a warm bath when the gas was cut off. I have studied with candles due to not having electricity. I have gone to the gas stations and filled up bottles of water to flush the toilets as we didn't have water. I have been hungry. I have eaten a 50 cent pack of cookies for dinner. I have gone to friends' houses hoping that they would cook while I was there. I was sexually abused. I had a parent in and out of jail.
I lived in most of the projects in our city, including the worst and most dangerous. I have innumerable stories of adversity and struggles we had to endure. Despite everything I went through, I continued to hold on to my goal of becoming a physician so my future children would not have to struggle.

In spite of everything I went through, I continued to hold on to my goal of becoming a physician so my future children would not have to struggle.
Through all of that, I had a supportive mother, a godfather, Rick August (who was the pastor of my church) and church family. It was a given fact that I would become a physician. Even my biological father would even introduce me as "Loucresie the future doctor". When an opportunity to enrich my education presented itself, my godfather and my church would ensure I had the means to take advantage even if we did not have the money ourselves. I was also lucky enough to have encouraging teachers along the way. My gifted teacher, Mrs. Allen would pay for my field trips when I couldn't afford it. My Jr. High teachers encouraged me to take the PSAT and start thinking about college. My high school counselors helped me fill out applications for scholarships and colleges. Even during college, I was directed to a wonderful pre-med program that helped me prepare for the rigors of medical school.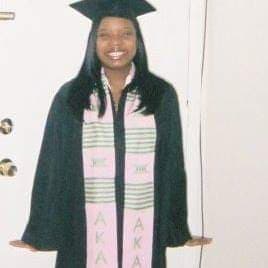 No one was surprised when I was accepted to medical school. I was on my way to becoming a pediatrician. The Lord continued to guide my steps, and during medical school, fate decided that I would work with children in a different way. The last rotation of my 3rd year of medical school was my psychiatry rotation. I planned to use this month to study for upcoming boards. I had already written my interest letter for ped residency programs and started to pick out places I wanted to apply. But God wasn't finished yet. I was assigned to child inpatient for my psychiatry rotation. By the second day, my attending told me that I was going to be a child psychiatrist. I looked at him and told him I was going to be a pediatrician. He told me I was wrong. I just rolled my eyes. By the end of the month, I was asking him to write me a letter of recommendation as I was switching from peds to child psych. To do child psych you have to do an adult psych residency first. I had no idea if I liked adult psych, but knew the Lord was calling me to child psych.

I ended up doing a four-year residency at the University of South Alabama. I was really blessed with that residency program. It was General psychiatry which usually is mostly adult patients. Most places only have one, maybe two months of child psychiatry the whole four years. We had a pretty child heavy program and so I felt like that really helped me get through the first four years of residency, and that it really helped prepare me for a child fellowship.

I had undiagnosed ADHD which caused medical school, particularly the first two years, to be extremely difficult. This was the first time my self- developed compensation skills did not cut it. I wanted to drop out many times but with encouragement, especially from my mom and godfather, I made it! The third and fourth years of medical school were clinical years and were much easier for me as I am a better visual / practice-based learner. I thought I had gotten through the hardest of it and was home free. I didn't want to be diagnosed and take medication at that time because I didn't want people to think I was "just trying to take the easy way out." This was of course before I knew anything about psychiatry and neurodiversity. As a person and a psychiatrist who now understands these things, I know better. I remained untreated until my residency. After a physician's intern (first year of residency), we have to take what we call our step three boards. And that's basically the final test that you take for your general license to practice medicine. Everybody, regardless of specialty, has to take Step three. When you pass you are able to apply for your general medical license. After you finish your training you take your specialty-specific boards (which for me was psychiatry), to be certified in your particular specialty. So, anyway, the first time I took Step Three, I failed it by two or three points. It was extremely difficult for me to focus during the test because it is a two-day test. So that was my wake up call. I finally was diagnosed. I actually remember my program director telling me that he didn't really believe in adult ADHD until he met me. He gave me good recommendations, so he definitely thought I was good at what I did, but it was obvious to him that I had ADHD. I guess I made him a believer!

Late diagnosis affected my self-esteem. I really suffered during medical school, and I had convinced myself that I was stupid and somehow convinced other people that I was smart and was able to slide through like high school and college and get into medical school, but I really wasn't able to do this work. My self-esteem didn't begin to bounce back until I met the first physician that treated my ADHD. I remember her saying to me, "wow, think about how you have a really severe case of ADHD and just think about how much you were able to accomplish with how little you're able to focus".
Completing the journey
My AHA moment-
My doctor pointing my successes out instead of what I considered my failings was a big "aha moment" for me. I realized I had actually done pretty well with the way that my brain works, especially being untreated. It also helped me see that treatment could have prevented all of those self-esteem issues. I truly feel the whole experience helped me become a better psychiatrist. I became a single mom by choice (through foster care then adoption ), finished residency, completed a child psychiatry fellowship, started Insightful Consultant LLC, Co-founded Physician Women SOAR and started Under One Umbrella. And that is my road to becoming Loucresie Rupert MD.
I actually remember my program director telling me that he didn't really believe in adult ADHD until he met me.