Welcome to the under one umbrella. I have a post where I describe a little bit about myself. This post is going to describe a little bit about my family. The blog is titled " My traditional family" because all families are important and equal and valid just the way they are. My family might not be a typical family, but it is a traditional family. And, it's way more common than what we call the "traditional family." Now, I will go ahead and give the disclaimer that anything I say about my children will be very general. I believe in people being able to tell their own stories. So I won't go into a lot of details about my kids. I do want you to get to know us as a family and I want you to understand how we are structured and situated. To start things off, I'm a single mom by choice. I initially was a foster mom, and I adopted my two foster children. So, I have a son, Anthony, who is eight years old. He was placed with me when he was 11 days old. And I have a daughter. Asiana, who is six years old, and she was placed with me when she was 11 months old. They are biological siblings, and they are both neurodiverse. We have an open adoption; they can talk to their mom and multiple other members of their family at any time. That's the little spin on my kids and me.
My mom also lives with us. So, we have a multi-generational family. She has been living with us since 2014. She is the granny nanny. She's super awesome with the kids, she loves them, and they love her.
I also currently have my brother and his girlfriend living with us. So, in addition to being multi-generational, we even have multiple members of the same generation living under one roof. It's a pretty full house, and we are just doing what we can to make things work.
My family might not be a typical family, but it is a traditional family.
As you know, I'm a psychiatrist, and now a blogger thanks to you beautiful readers. I also run a nonprofit organization called Physician Women SOAR, and SOAR stands for support, organize, advocate, and reclaim. I've done that with my wonderful colleague Kadijah Ray. SOAR recently turned two years old in November of 2019.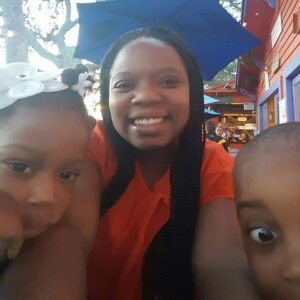 I also own a company called Insightful Consultant, LLC; Under One Umbrella is a subsidiary of that company. At Insightful Consultant LLC you can book me for speaking engagements and training. I also have a full-time job as a child, adolescent, and adult psychiatrist. I mainly see children with all diagnoses and adults with developmental disabilities. I have a few general adult patients, but not many. Right now, I'm currently doing some weekend work. I generally do one weekend a month moonlighting at an inpatient hospital a few hours away from where I live. And that is an adult inpatient facility. I am pretty busy, but I've always been very open about my life and my struggles. To read more about my journey and my struggles, read "The Long Road To Be Loucresie MD." And I fortunately/unfortunately have had a lot of struggles and a lot of different areas that I can connect to many people with. So that's a little bit about me, now onto the other members of the family.
The Kids
As I mentioned earlier, I'm a single mother to two awesome children. Of course, you probably won't see many pictures of them on the blog because, again, I want them to have a little bit more control of their own social media identity and voice. Don't worry, you will hear many essential stories about them for sure, especially if you follow me on Facebook, Instagram, and Twitter at Under One Umbrella (include links here). You will hear plenty of stories about my kids, they do cute things all the time, and I just have to talk about them.
Let's start with my son, who is super cute. Just to tell you a couple of good things about my son, as I mentioned earlier, he is neurodiverse. He loves music, and he's been playing the drums since he was one year old. I have to had to buy a drum set every single year for Christmas for the last six or seven years. Ok, hang on, I believe I missed a year just for general principle, or his mishandling of a previous drum set. Last year I finally got him a real beginner drum set instead of the kid version. This year, (well, actually by the time you read this Christmas will have passed) So, Christmas 2019, I'm getting him an electronic drum set so that he can plug those headphones in, and Mama doesn't have to hear drums all the time. He also is starting to take piano lessons, and he likes that. I got him a keyboard for his birthday, now the headphones can be plugged in, and momma doesn't have to hear that either. He loves Art; He loves painting and coloring. I think he's going to probably really get into that more as he gets older. He is a very sweet child. He's doing really well in school, and I'm super proud of him.
Let me tell you a little about my daughter. She loves to dance. She's in ballet and tap right now. She enjoys ballet the most. She used to be in gymnastics and she's really good at gymnastics. However, where we are now, the gym just wasn't a great fit. So, we switch to ballet and tap. She is also in a dance (hip hop) class that incorporates aerobic/ gymnastic moves. She loves dolls and princesses, but at the same time, she is rough and tumble and can hang with the best of them. My daughter likes to run with the big dogs, not stay on the porch, LOL.
My wonderful mom
Now onto my mom! In addition to being the (grafted in) nanny, she has hopes of actually starting her a blog of her own pretty soon that she wants to call the traveling Gigi. I work a lot, so she is with the kids taking them to all their appointments and extracurricular activities, so she does a lot of traveling with them around town, etc, and when we travel as a family, generally, she's with us also. She has even more cute stories of my beautiful, wonderful kids that she would like to share. I think that is an excellent idea, so hopefully, you'll be hearing from her soon. She also has a degree in Business and Marketing Management. So, in the future, you might see her doing some marketing work also. She also does professional editing for people that write books, or blogs, etc. She's super great and super awesome. Kids love her. And those are the core people that are the permanent part of the household.

All families are unique
That's my traditional family –
Why don't you tell me a little bit about your traditional family, and what makes your family unique in the comments?
All families are important and equal and valid just the way they are.